Review CARM Tours & Transfers



Private Yacht Charters
Luxury private yachts for full day or half day charters
Choose one of these fabulous yachts to spend 4 or 8 hours cruising around Cancun or Isla Mujeres. Yachts hold from 10 to 16 people, depending on the boat you choose.
Our yachts include all the amenities you would expect: full crew, open bar, music, food, floating nets & snorkel gear. All our yachts have luxury cabins with bathrooms and showers, plasma TVs, stereo surround sound systems and plush saloons.
Relax and enjoy the Caribbean Sea on your private yacht charter from Cancun.

40 foot Sea Ray Sundancer "Seahorse".
Up to 10 people max.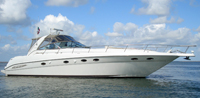 46 foot Sea Ray Sundancer "Blues".
Up to 12 people max.

48 foot Formula "Into the Blue".
Up to 14 people max.

54 foot Sea Ray "Solivia".
Up to 16 people max.

Yacht to Cozumel
46 foot Sea Ray Sundancer "Blues".
Up to 12 people max.

40 foot to 45 foot Yacht Sunset Cruise.
6-10 people
Includes:
2 cabins
2 bathrooms w/showers
plasma TVs screen in saloon
stereo, video, & DV surround system
snorkeling equipment
floating mats & sun pads
sandwiches and domestic open bar.
Full crew & captain
Cancellation Policy & Details
All prices are in US Dollars
Tours require 48 hours notice for cancellation or change.
Tours that are cancelled prior to 48 hours prior to the tour time will be issued a credit, good for 1 year from date of Purchase.
Tours that are cancelled less than 48 hours prior to the tour time will be considered a NO SHOW and no credit will be issued.
Do not assume a tour is cancelled by rain. Only the tour operator determines if a tour is cancelled due to weather. That is not up to us. It rains here very often and rain will not stop most tours.
To Cancel: Call us local in Cancun 998-273-2970 or email us at office@cancunandrivieramaya.com.
If your tour is cancelled by the tour operator for any reason, including weather, you will receive a full credit.
To Change: You can change the date of any tour without penalty by calling us 48 hours in advance.
Here is all of our Contact Info


**Credit will be issued for cancellation of travel plans for reasons such as, but not limited to, weather/climate conditions such as hurricanes, earthquakes, pandemics, or by acts of government (war, civil disturbances, strikes, travel bans/travel advisories etc.) In the case of these events, you will be issued a FULL CREDIT.