Review CARM Tours & Transfers



Private Cenote Snorkel & Canopy Zipline Tour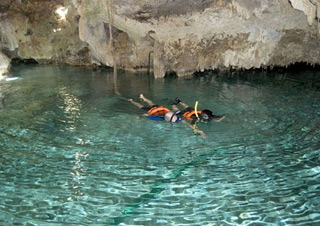 Amazing experience in the Mayan Cenotes...optionally add on Mayan ruins.
*Tour not available on Sundays*
Cenotes are natural freshwater pools with underground caves and caverns, formed because of the porous limestone ground that makes up the Yucatan. Cenotes are found in only a few locations on earth. Combine Snorkeling in Cenotes and Zip Lining above the jungle canopy with the history of Mayan Ruins. This is a unique experience you will never forget.
Once you book online and complete the deposit payment, we will send you the confirmation voucher by email. Print your voucher and bring with you to Cancun. It has all the details including our contact info if you need to make any changes.
Number of Adults

1
2
3
4
5
6
7
8
9
10

Price per Adult 11 years + $

295

167

134

118

109

103

98

94

91

88

Price per Child 5-10 years $

59

59

59

59

59

59

59

59

59

59

Pricing: It is cheaper per adult the more adults you have total. Child prices remain the same, regardless of number of adults. Kids under the age or height listed above are free. If you are a total of 11 people (including kids) or more, email us for a quote.
Includes:
Round trip A/C transportation exclusively for your group
English speaking driver, parking, taxes
90 minute snorkel at Aktun Chen cenotes
90 minutes Canopy Zip lines
Lunch and bottle water
Transportation round trip
Gear & guides
Itinerary:
90 minute ride from Cancun. We suggest pickup at 8AM - 9AM. You go directly from your hotel to Aktun Chen Cenotes (opens at 10:00 AM). Private tours are for your group only and therefore you plan the day.
Pack for this tour:
Insect repellant, bottle of water, swimsuit, towel, sunblock (biodegradable), hat, sunglasses, camera. Make sure to bring a change of clothes as the driver will not let you in the vehicle if you are wet.
Options:
Add on option: Tulum ruins entrance. Spend as much or little time as you like in the beautiful coastal Mayan ruins of Tulum, Mexico. Guide not included (approx $65 USD). Additional cost: $10 per person
Add on option: Coba ruins entrance. Hire a bike to pedal you to the ruins where you can still climb the steps to the very top. Guide not included (approx $65 USD). Additional cost: $15 per person
Cancellation Policy & Details
All prices are in US Dollars
Tours require 48 hours notice for cancellation or change.
Tours that are cancelled prior to 48 hours prior to the tour time will be issued a credit, good for 1 year from date of Purchase.
Tours that are cancelled less than 48 hours prior to the tour time will be considered a NO SHOW and no credit will be issued.
Do not assume a tour is cancelled by rain. Only the tour operator determines if a tour is cancelled due to weather. That is not up to us. It rains here very often and rain will not stop most tours.
To Cancel: Call us local in Cancun 998-273-2970 or email us at office@cancunandrivieramaya.com.
If your tour is cancelled by the tour operator for any reason, including weather, you will receive a full credit.
To Change: You can change the date of any tour without penalty by calling us 48 hours in advance.
Here is all of our Contact Info


**Credit will be issued for cancellation of travel plans for reasons such as, but not limited to, weather/climate conditions such as hurricanes, earthquakes, pandemics, or by acts of government (war, civil disturbances, strikes, travel bans/travel advisories etc.) In the case of these events, you will be issued a FULL CREDIT.