Review CARM Tours & Transfers



Cozumel Scuba Diving 2 Tank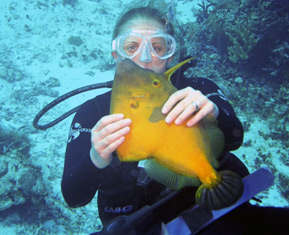 Dive world famous COZUMEL at one of its many dive sites.
Dive at the famous deep walls of Palancar, Columbia, Santa Rosa, or Paradise Reef in Cozumel, Mexico.
Our day trips from Cancun are the perfect way to dive in Cozumel. We pick you up at your hotel, take you to Playa del Carmen where we cross on a thirty minute ferry to Cozumel.
If part of your group would prefer to snorkel, we have that option also!
Includes:
Round trip transportation from Cancun
Box lunch & water
All equipment is provided: mask, snorkel, fins, BDC / regulator, tank & weights.
Dive Master
Two dive sites, including reefs such as: Palancar, Columbia, Santa Rosa, or Paradise Reef.
Tour Info:
Wet suit not included (cost $10 USD)
Monday, Wednesday & Friday. (leaves 7:00 AM, returns around 5:00 PM)
If some of your group wants to dive and some wants to snorkel, you can all still go together! Snorkelers only pay $115 per person.
Does not include $5 per person reef tax
Adult Rate: $180 USD
Child Rate: $180 USD
Cancellation Policy & Details
All prices are in US Dollars
Tours require 48 hours notice for cancellation or change.
Tours that are cancelled prior to 48 hours prior to the tour time will be issued a credit, good for 1 year from date of Purchase.
Tours that are cancelled less than 48 hours prior to the tour time will be considered a NO SHOW and no credit will be issued.
Do not assume a tour is cancelled by rain. Only the tour operator determines if a tour is cancelled due to weather. That is not up to us. It rains here very often and rain will not stop most tours.
To Cancel: Call us local in Cancun 998-273-2970 or email us at office@cancunandrivieramaya.com.
If your tour is cancelled by the tour operator for any reason, including weather, you will receive a full credit.
To Change: You can change the date of any tour without penalty by calling us 48 hours in advance.
Here is all of our Contact Info


**Credit will be issued for cancellation of travel plans for reasons such as, but not limited to, weather/climate conditions such as hurricanes, earthquakes, pandemics, or by acts of government (war, civil disturbances, strikes, travel bans/travel advisories etc.) In the case of these events, you will be issued a FULL CREDIT.