#1 is Sunscreen Biodegradable Only $12 here
Can-do Cancun MAP - these maps are the perfect little guides. We sell them in the CARM Map Room
Gel hand sanitizer
Handy wet wipes
Zip Lock bags. These are so handy to put your wallet and phone in when you will be near the water
Lip balm (high spf)
Small child back pack. This comes in SO handy when you just need carry a few things, esp on tours. Pack it with souvenirs to bring back from Cancun.
Garbage bag for dirty clothes
Alka Seltzer, Excedrin - your favorite hangover cure
Tums, Immodium, Pepto. Stomach issues are common.
Aloe gel for sunburn or After Sun Lotion
A hat, cap or visor
Water shoes, flip flops, or sport sandals
Insect repellent
Underwater Camera
Small bills for tipping
At least one dressier outfit for dinner/night clubs
Extra empty duffel bag to pack the souveniers you buy
Sunglasses are a MUST! Cheap ones are better for the beach
Swimsuits & Sarong. If you don't have a swimsuit, you can buy good ones at the mall or cheap ones at Walmart.
Shorts & light shirt/blouse
Extra t-shirts to get comfy after a day at the beach
During winter months, bring a jacket. Nights are cool
Travel umbrella
Reading material
Passport, Travel Documents, tickets, perferrably all in one place. You won't get far without them :)
Prescription Meds & copy of prescriptions
Photocopy of ID's & Credit Card information
Tips for packing: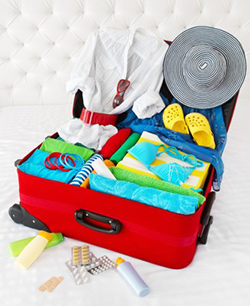 Roll clothes instead of folding. Saves room and less wrinkles
Less is better. If you don't NEED it, don't bring it. Stores here in Cancun have most things you might want.
If there is a certain kind / brand of something you enjoy, bring it. Tea, coffee, cigarettes, etc. While you can surely find something similar here, if you only want your brand then bring it with you.
Biodegradable Sunblock is hard to find in the states. Order it here and have it waiting for you in Cancun.
No need to bring towels if you are staying in a resort.
Put liquids in Zip lock bags. So many times the spill out into your luggage
Pack bathing suits, lotion, and other beachwear at the top in your luggage so you can access them in case you arrive at the resort before regular check-in time. It will be the first thing you need!
Generally Cancun is very casual, but you will want a nice outfit or two for clubs and nicer restaurants.